I guess there are pros and cons to going all the way to Chiang Mai for "nightlife (of the lady variety)," but if you live there, you will want to go there once in a while and use it as a social gathering place when you don't have anything to talk about.
In conclusion, though, I would say that the lady type nightlife in Chiang Mai is less satisfying and a bit hard to find.
Chiang Mai Nightlife Basic Information
For information on standard nightlife areas, including those for tourists, this site is probably the most detailed, so click here for basic information.
▼ Pattaya Arabian Nights

However, the area introduced is the area east of the Tha Phae Gate, where most tourists are located.
It is certainly the only area where stores are grouped together, but it is an area that has been around for a long time and there is an undeniable sense that it has been declining rapidly from its peak.
Go-go-bar
First and most importantly, as of March 2023, not even one go-go-bar had opened.
There were a few go-go bars in the past, but they closed & temporarily closed (or maybe they won't come back?) due to covit-19.
Bar beer
If you want to get involved with girls casually in Chiang Mai, "Bar-Beer" are the most promising.
Within walking distance from Tha Phae Gate is a street (Loi Krod) where Bar-Beers gather.
However, the quality of the girls is low and there are not many. It is not likely that you will be able to play in Bangkok's sordid way, as the girls are a bit more attentive to where you are drinking.
Karaoke (around Tha Phae Gate)
I haven't stopped by the store either, but like Bar-beer, it doesn't seem to be at a level that compares to Bangkok.
MP (Massage Parlor)
This one does not look too good either.
20 Karaoke, a karaoke place for residents to go.
I don't think anyone who comes to Thailand because they like the nightlife would choose Chiang Mai. The name I often heard from residents is 20 Karaoke.
It is a bit far from the center of the city, but the tuk-tuk driver could understand me by saying "karaoke e-ship(20)".
The restaurant is said to be frequented by expatriates and contains a Japanese karaoke system (DAM, I believe).
GoogleMap shows a picture of what looks like a large room, but this is the entrance and there are private rooms in the back, like the taniyas.
fee system
This system is similar to local karaoke.
300 Baht per person per hour with a girl
There are no ladies drinks; the girls drink the drinks we order.
The price of alcohol was also close to the local setting: a full bottle of Johnnie Walker black was 1,900 baht.
Ice and soda are charged separately, which is a bit expensive, I think 30 baht for each.
Food was blah and priced at around 250 baht and up for one Thai dish.
*I think Regency was the cheapest place for a bottle of whiskey (about 1,200 baht, I believe).
Lowest cost configuration
Let's say the three of us were there for two hours,
300 baht x 3 girls x 2 hours + (300 baht tip) = 2,100 baht
Regency 1,200 baht x 1 bottle + (ice x 3) + (soda x 10) = 1,590 baht
= 3,690 baht / 3 people = about 1,230 baht per person. Well, this is only the lowest price structure.
*The girls drink the same bottles, so the alcohol runs out fast.
Ladies
The level of lady I am concerned about is quite good compared to something like Bar-beer.
I had more than a dozen girls to choose from, depending on the number of customers coming in.
*I'm sure it depends on the person (I forgot to ask) if it can be pay-bar or not.
It's the groove that matters.
The girls we (three of us) chose were relatively quiet characters, and all three were from Chiang Mai.
(I don't know if this is true)
What I'm trying to say is that the girls who work there are not Isan people, so they don't have that silly high-tension feeling.
So I had a hard time turning on the girls!
The girls sang Thai songs, we had a drink-fueling contest, and the party was finally getting going.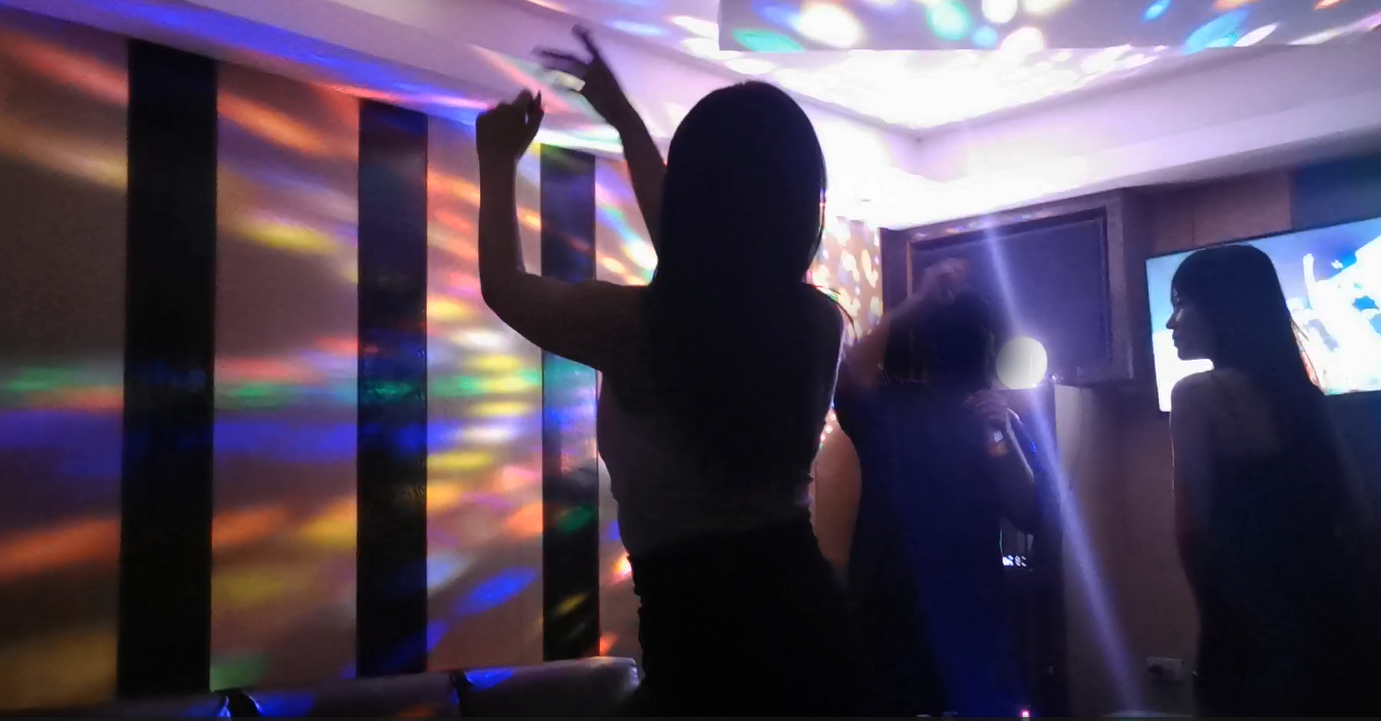 After about an hour, it was finally in this state.
Checkout on the day
Three of us stayed for three hours. We ordered two black bottles of Johnnie Walker and some food, and it cost about 3,500 baht per person.
It is cheap for a drink without worrying about money, but well, it costs that much.
Other Choices
The only other such stores outside of the Tha Phae Gate area are karaoke/bar-beer for the locals.
There are about five karaoke bars along the street where Chiang Mai Hormone is located. However, they look rather shabby (like karaoke in the suburbs of Bangkok).
The only other place that is different from a bar-beer is a place where sexy girls serve you at each table.
The Bar on the map has a girl present and will make drinks when they run out.
The bars around here are probably not very nice to touch (and of course, pay-bars are basically NG).
Conclusion.
I have been in Chiang Mai for about a month and a half and have not been in contact with anyone familiar with the nightlife, so I got this information from a resident I talked to at a bar. Therefore, there may be some deeper bars.
However, since this information came from asking several men who have lived in the area for several years, I think this is about the only bar that can be readily accessed.
I don't think anyone would expect Chiang Mai's nightlife to be as good as it is, but considering it is a non-Isan city outside of Bangkok, Pattaya, and Sriracha, I would say it is a reasonable size.
Chiang Mai is nature and cafes, after all.