Girls Yardong Bar or Som Tam Yardong BAR at Hua Lamphong station that appears at night.I have seen articles about this restaurant as a deep spot many times.
There used to be countless stores in this style from Hua Lamphong Station to Chinatown, but changing times have reduced their number.
Especially in today's Bangkok, where several street food stalls have been removed, this style of restaurant, once created by migrant Isan people, could disappear at any time.
Since the renovation of the Hua Lamphong station in 2020 has begun, I went there to experience it, feeling a sense of crisis even more so.
Yardong Bar Location
I knew there was a BAR around Hua Lamphong station, but I didn't know the detailed location, so I was a little lost.
I knew that the bars were run by migrant workers from Isan, so I expected to find them lined up around the inconspicuous road leading from Hua Lamphong station of the national railway to Chinatown, but I could not find any stores in that area.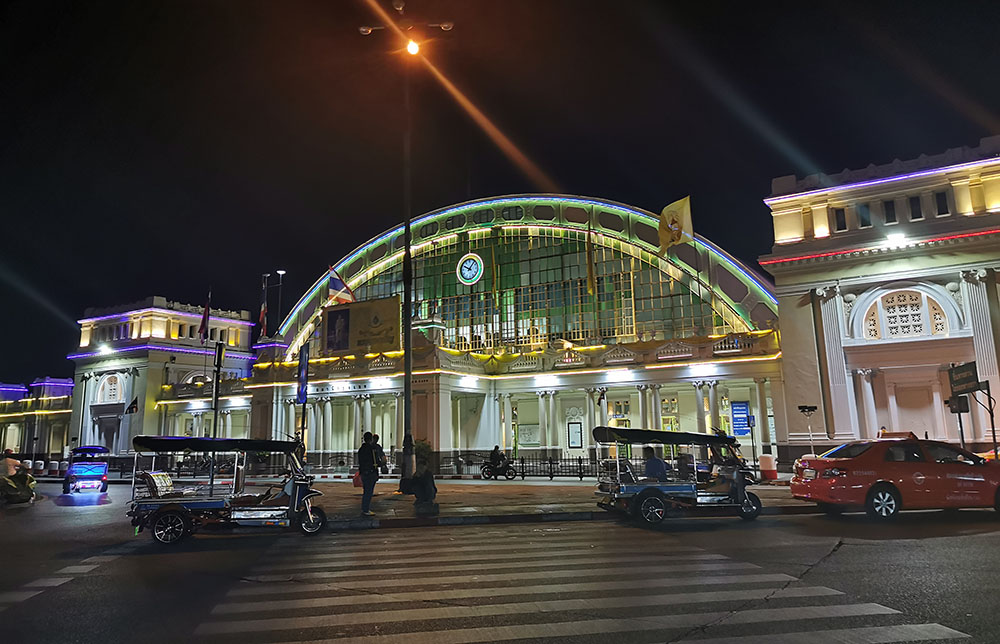 I asked at a nearby stall and was told that it was apparently located around the Hua Lamphong MRT station. I thought it would never be in this area because it is bright and crowded, but it seems that they open their bar rather openly.
On the map, this is the exit. From here, several bars are lined up toward Sukhumvit.
it's sit down at the yardong bar!
Mats are laid out along Rama IV Avenue like this.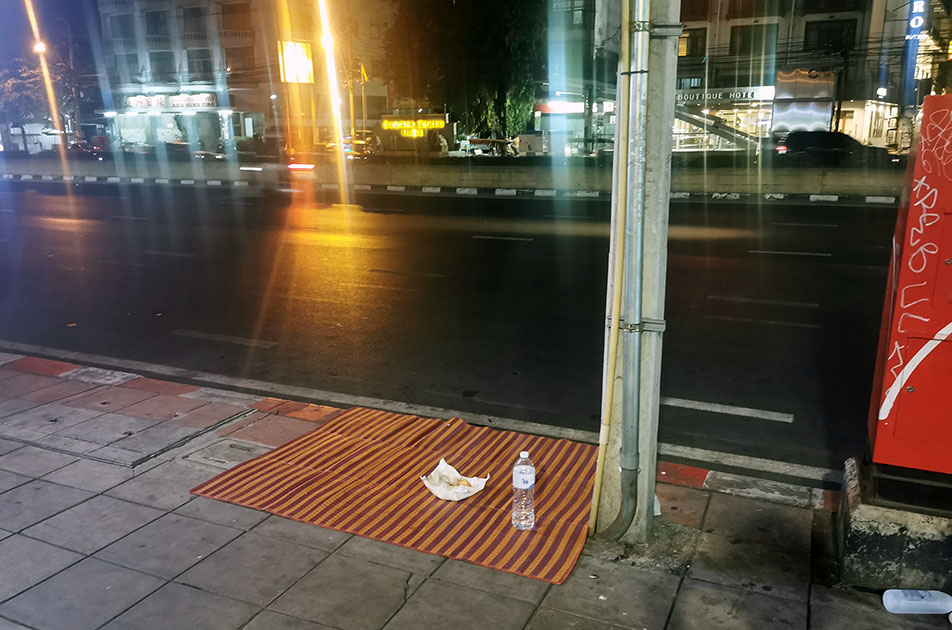 It is beyond pathetic and could be mistaken for trash. It was early in the day, and they may have just been taking up space at the BAR.
Still walking in the vicinity, I am approached by a woman sitting on a mat, and I sit down at the bar with an open mind.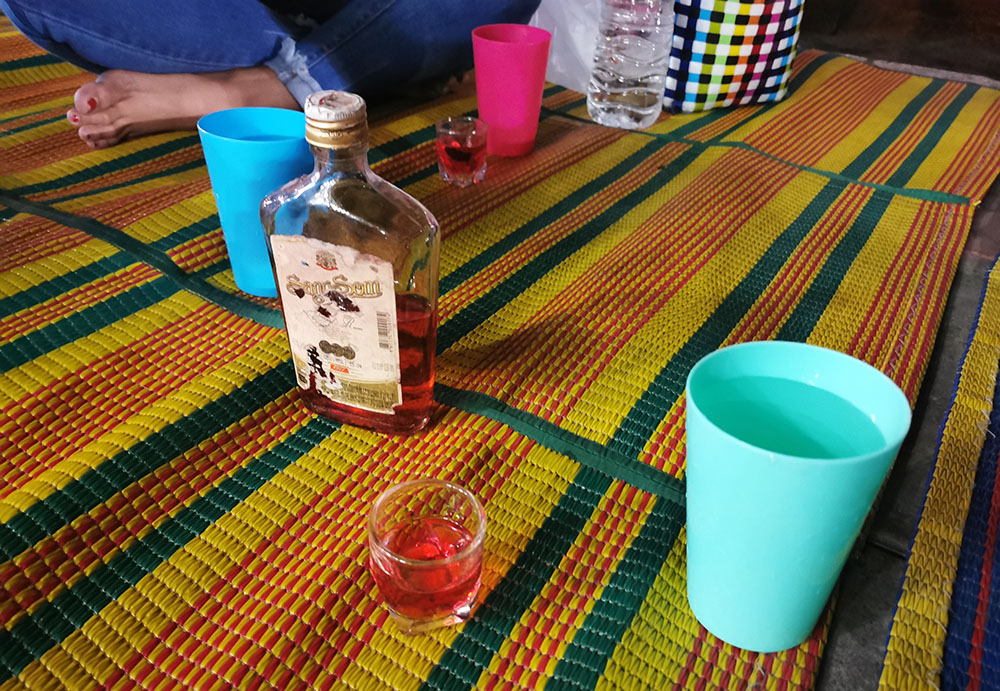 As soon as you sit down, Yardong (Thai herbal liquor) is served. They only serve Yardong as an alcoholic beverage.
Yardons are refilled with bottles of cheap Thai whiskey (rum). The price is 100 baht per bottle, and goatherds also drink from these bottles together.
Yardon is diluted and not strong enough to drink straight. It is not that easy to drink and comes with a chaser.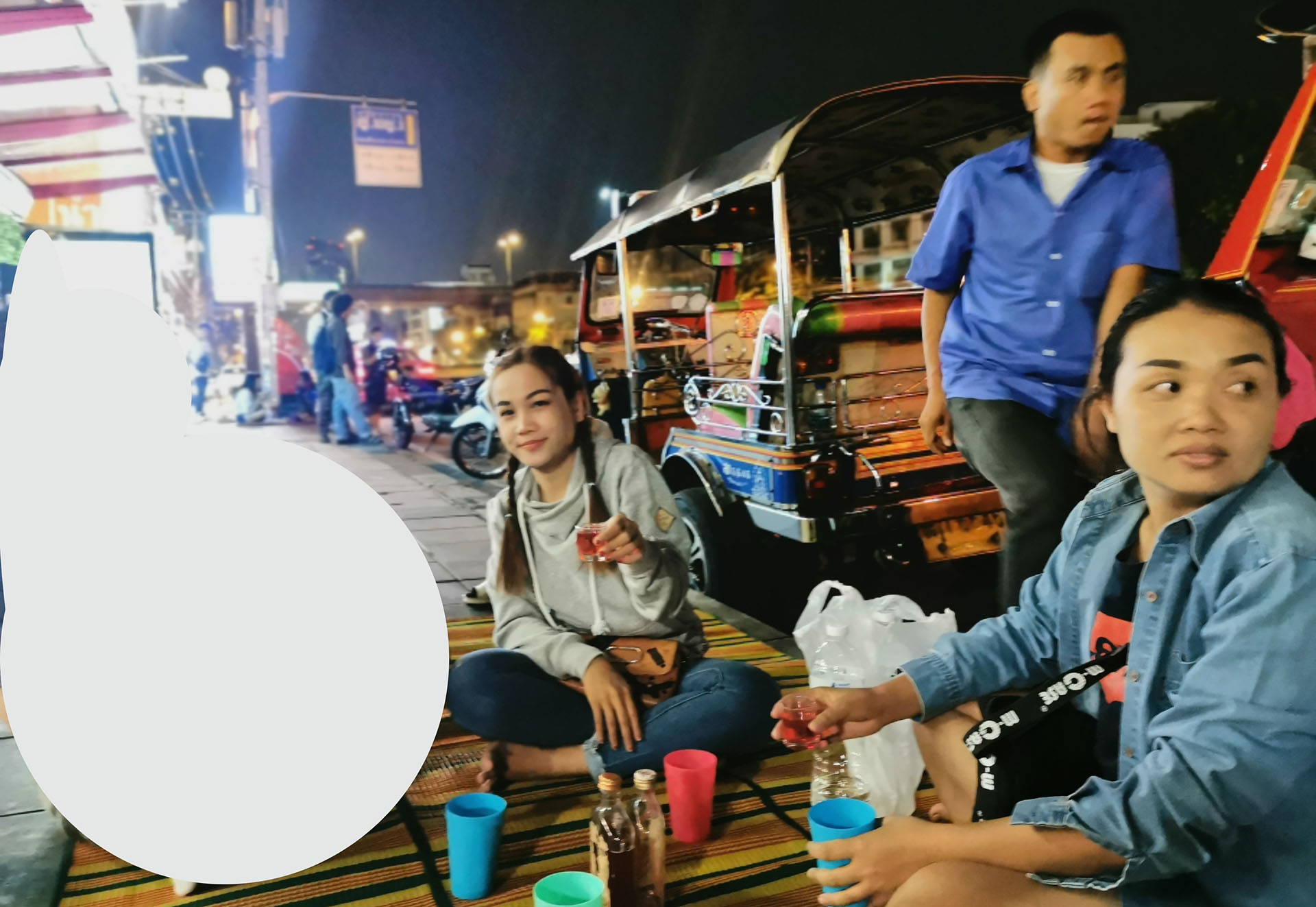 The tuk-tuk driver joins the conversation along the way, and the atmosphere is like a rural neighborhood drink.
The girls are from Loyet, east of Khon Kaen in the Issan region.
Service Details
Basic service is conversation only. There is no touching service.It may not feel comfortable with touching or being touched on such a busy street.
The women speak some English, but it will be hard for them to stay for long time unless you speak a little Thai.
Food
Some bars had a mortar (crock) for making somtam, but this Bar had it made at a nearby stall.
So you could bring in other items from nearby stores in addition to the som tam. We didn't have any snacks or nuts, so we went to 7-Eleven to buy some.
The bill for the day
We went with two people, and in about an hour, we had four yardongs and a tip of 100 baht x two people for a total of 600 baht.
It's a light yardon, so it's easy to drink smoothly and the girls drink like crazy. The toasts are encouraged and the pitches go up, so be careful.
I think they just do that extra because we are foreigners with money. I was not asked for a tip, but I gave it as a foreigner's preference.
*Please note that Yardon is a drink that stays with you the next day.
Opening Hours
Evening from 5pm to morning. Peak time is from 1:00 to 2:00 am.
Police patrols
Occasionally a police car runs by and hides the yardon when it is in the opposite lane, and when it comes to our lane and is about to stop, we put away the mat itself and wait in an inconspicuous place.
It is illegal to make a yardon without a license, and since the restaurant does not have a business license for a bar, it is at a level of evacuation.
As for the yardon and bar business, it is a tacit state, so there is no need to be serious about it. Please follow the instructions of the women and avoid them, as they will ask you for a bribe for the face of the policeman and for pocket money.
How to enjoy Yardong bar
I like these local places, but it's hard to go through and enjoy them, even if you are fluent in Thai. It's nice to come here once as a tourist attraction, but it's also hard to come to Hua Lamphong station for this bar.
Peak hours are from 1:00 to 2:00 a.m. I think this is a place for tuk-tuk and motorcycle cab drivers to enjoy Issan liquor, women and som tam while enjoying a drink after work, so it is a good place for those who want to speak Issan. And it's a lot cheaper than go-go.
To the cab driver, "Yardong, hua lang pong."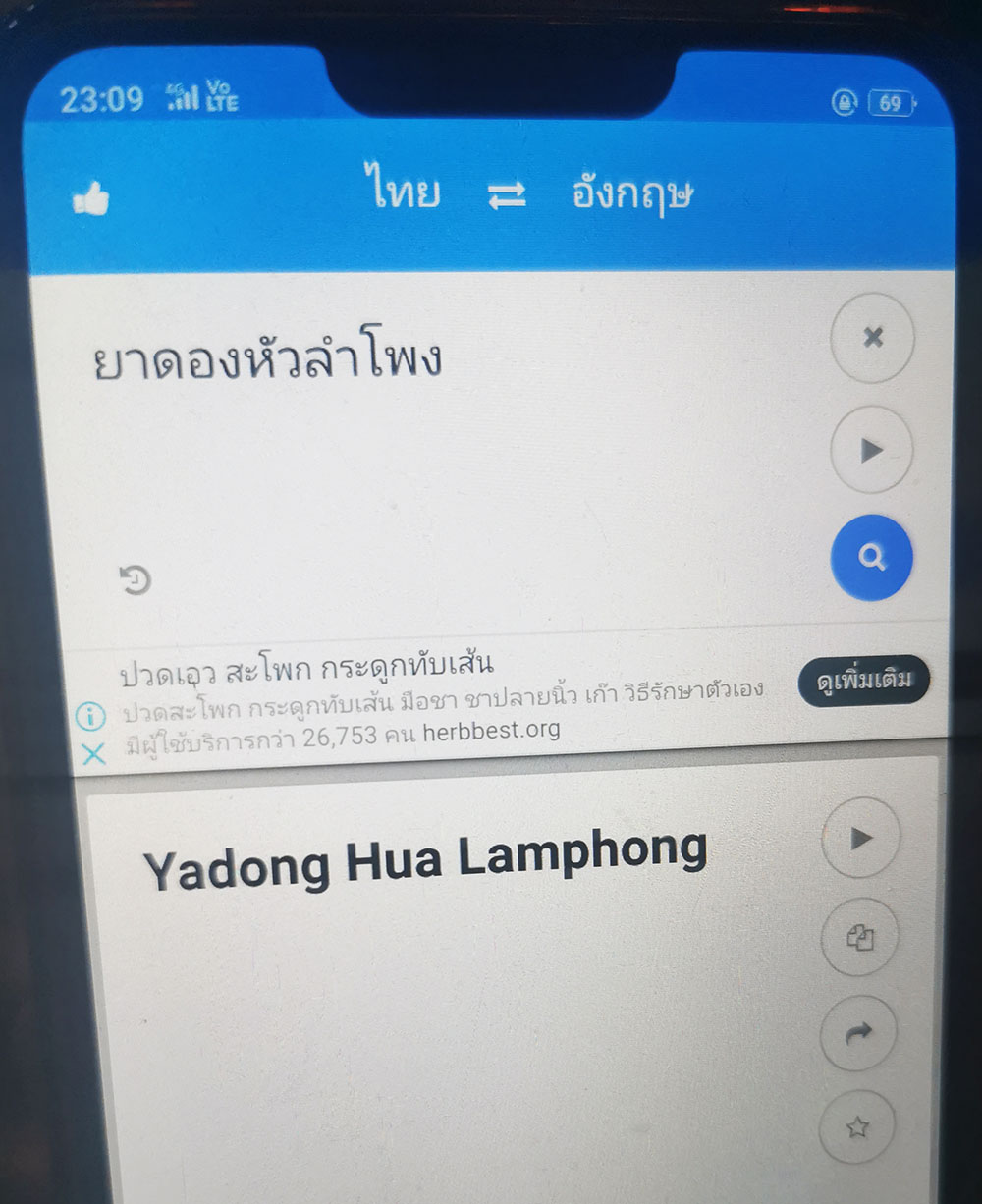 I asked him how to say it in Thai. In Japanese, it is called "goza-bar" or "goza-somtam-shop". *"goza" means mat made by dry plants.
「Yadong Hua Lamphong」
There does not seem to be a specific name for it, but I was told that the cab driver would know it if I told them.