Intamara is the most famous go-go bar for Thai people, but this time we went to the northern area of Lap Lao, which is completely out of the way from the center of Bangkok.
This area – to the east, Lam Intra, the northern area of Lam Kam Heng, is a popular area for young Thai people.
▼ Here is the restaurant we went to this time.
paikanyai pub GOGO bar & restaurant
The reason I went to the restaurant was simply because I wanted to attack the Thai area a bit, and also because I was struck by the big box look I saw on Google Map.
I had a pleasant experience with Cafe- (the night one) in the past, and the fact that it had a stage made me think of it as a place between Cafe- and Go-Go.
entering
The entrance is simple and somewhat suburban.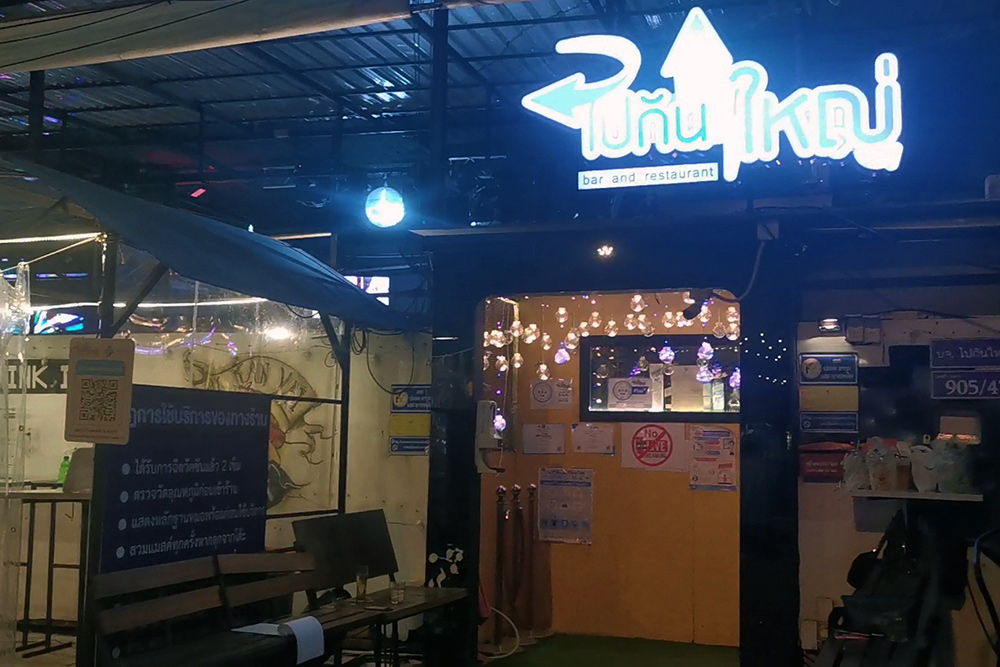 The process of entering the restaurant and being seated is the same as in a regular go-go restaurant, and a woman attends to you from the entrance to your seat.
The stage is timed, or perhaps there is no on-stage performance when we enter, and each table in the large space has a girl attached to it to make it more exciting.
Unlike the go-go's in Intamarra, the main foreigner area of Bangkok, the voice is loud and crude. The energy is great but a little rough.
At any rate, when we are seated at a table, the girls gather around and urge us to choose.
I put the girl on anyway before asking about detailed rules because English is rarely understood, but it is unclear if I can refuse once and put the girl on later, etc.
Alcoholic Beverage Prices & Women's Drinks
While ordering by the glass is common for go-go in central Bangkok, the style of drinking is to sit firmly at a table, similar to Intamarra, so ordering by the bottle seems to be the main style.
There were four of us there, I forgot to look at the price of a glass, but it is not a place where you can drink slowly by yourself, so it is better to fill a bottle with several people.
This is because bottles are cheap. A bottle of Johnny Walker (black), Chivas, costs 1500 baht, about the same or cheaper than Intamara.
Lady drink
This is also. Unknown because one of the people in attendance asked for a set of shots as the girl encouraged him to do so.
The set of shots we ordered (10 shots) was 1500 baht, and I think the other drinks by the glass are probably 150 baht each.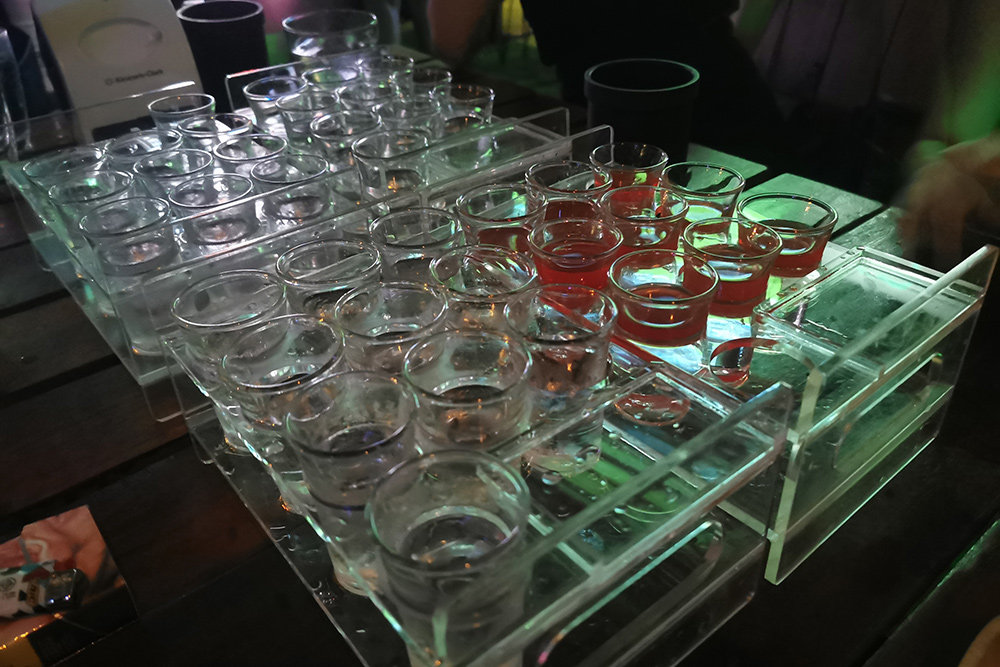 how to play
Since almost no English is spoken, it naturally becomes a game or a janken (rock-paper-scissors-paper) contest at once.
If it go-go in the center of Bangkok, you can drink while conversing in poor Thai. However, as with intamarra, where girls who are not used to foreigners serve you, it is difficult to communicate if you cannot speak Thai.
It's especially tough if you don't have a group of people with a reasonable level of Thai language skills, as it's a very noisy groove with girls at the tables.
We were having a chugging contest, but the difference between this and Intamara was that we were basically using lady's drinks (Intamara had a 100 baht rule if we lost), and we had a lot of fun.
The amount of liquor in a shot is small and somewhat light, It go through two sets of shots in no time (3,000 baht).
Our own drinks are bottled, so they cost very little, but the ladies' drinks are very heavily weighted, which means the bill depends on them.
We were there for about an hour and a half and spent about 15,000 baht for the four of us.
Lady's Level
First of all, unlike other go-go bars in the area, photos are allowed.
I posted a video of the stage show, but the level of girls is lower than others. There were some good girls, but they were already at other tables, so if you don't go early on weekends, you won't find good girls.
and some lady's are transitional type, so be careful.
There was also a Cambodian girl.
Pay bar & Prices
Sorry. It didn't feel like that at all, so I forgot to ask.
Customer Type
Thai people are the main visitors, but Mama says that Chinese and Koreans come quite often. Next, there are many Hong Kong people.
Mom said that not many Japanese or Westerners come to the restaurant.
Place
I will post the map again.
It's about 40 minutes from around central Bangkok on Fridays.
You are going away from home, it would be good to go to Lam Intra night market or Lap Lao stores to lay the groundwork for a different feeling.
We went here to get drunk.
関連記事
夜の世界の方にはその名前を知られている「AV(アダルトビデオ)居酒屋」。場所がラップラオの、MRTから外れたエリアにあることもあり客は基本タイ人。でも料理がおいしくてリーズナブルということで行って参りました。AV居酒屋は[…]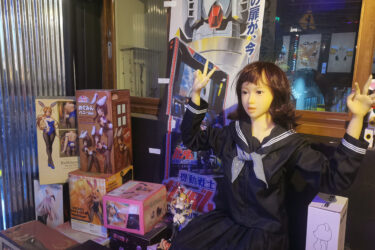 Have a great night life~!
¥1,386
(2023/09/24 17:27:33時点 Amazon調べ-
詳細)