Smoking Situation in Thailand
In line with the global trend, Thailand is also gradually becoming stricter and more demanding in terms of smoking cigarettes and good manners.
The only people who walk around smoking are foreigners, so be mindful of your manners.
The sales are basically placed behind the cash registers at convenience stores such as 7-Eleven, where you can't see them, so you have to tell the cashier the brand name and purchase the product.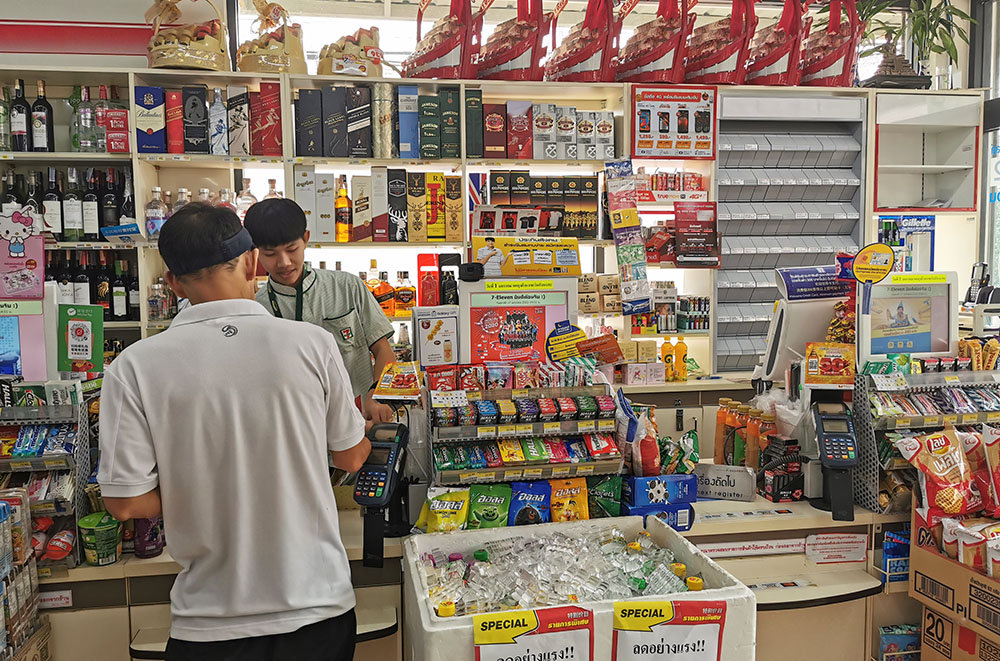 Cigarettes available in Thailand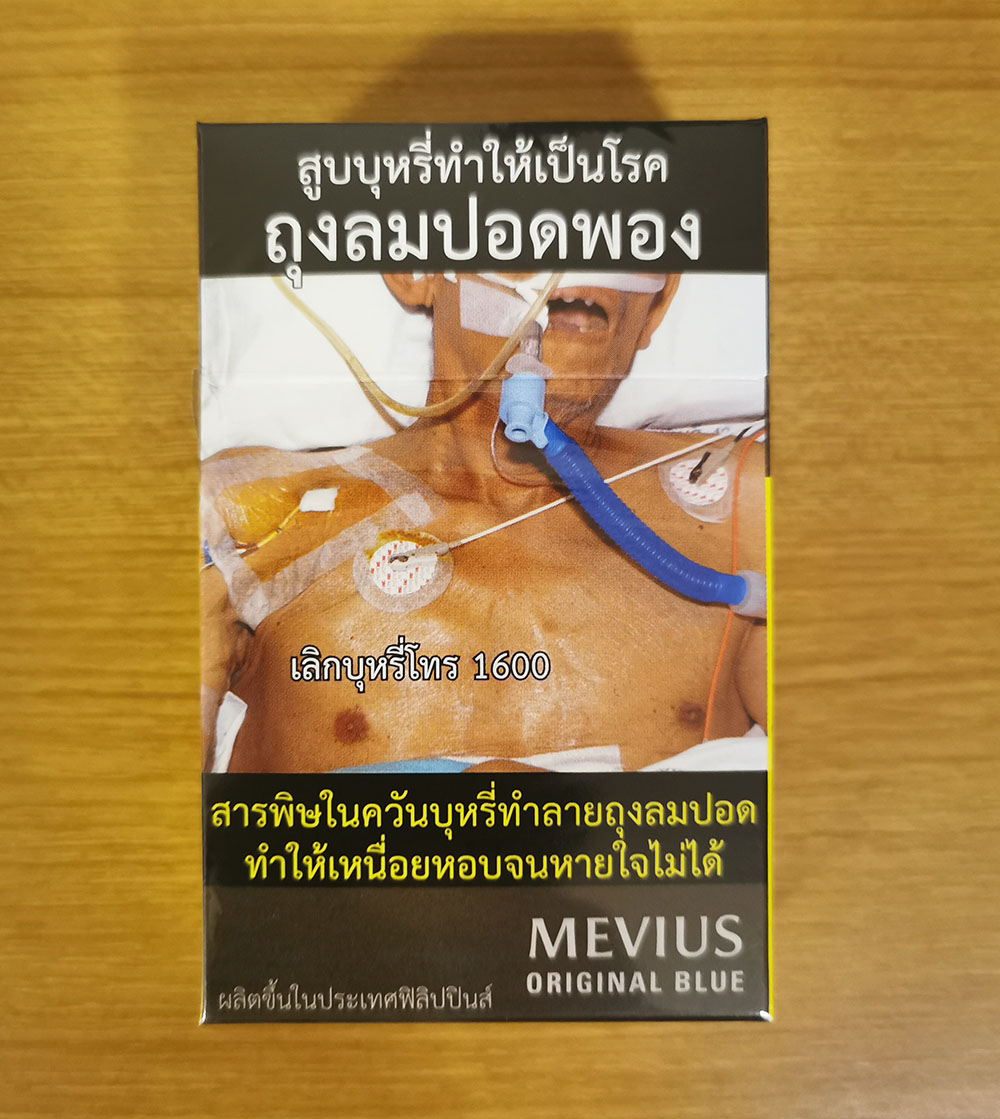 Marlboro, Mebius, Camel, L&M, Winston, and other foreign-made cigarettes are commonly sold.
There is a wide variety of cigarettes available, including original, light, and menthol, but the cigarettes sold in Thailand are clearly not tasty.
The taste of cigarettes varies from country to country, even for the same brand, but unfortunately Thai cigarettes are not very tasty.
---
Thai cigarettes have a middle slim.
There are not slim-type cigarettes that women smoke, but rather cigarettes that are about as thick as a regular cigarette and between a regular and a slim-type cigarette.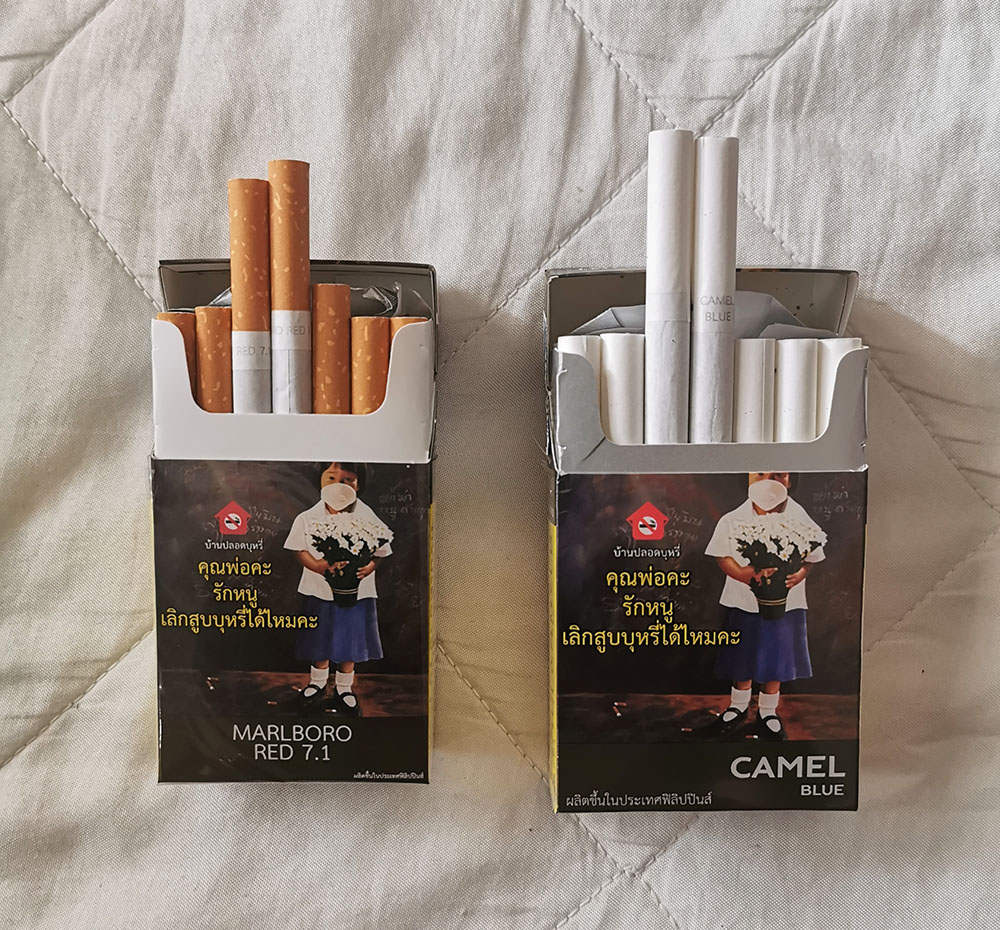 On the left is the middle slim type of Marlboro.
It will be a little slimmer and shorter. However, this middle slim type is only available in some brands such as Marlboro, L&M, and Winston.
Thai Cigarettes
Of course, there are also Thai cigarettes. The most commonly smoked by locals are probably WONDER, SMS, and iSCORE.
However, none of them are very tasty. If I had to pick one, I would say that iSCORE is the most decent tobacco.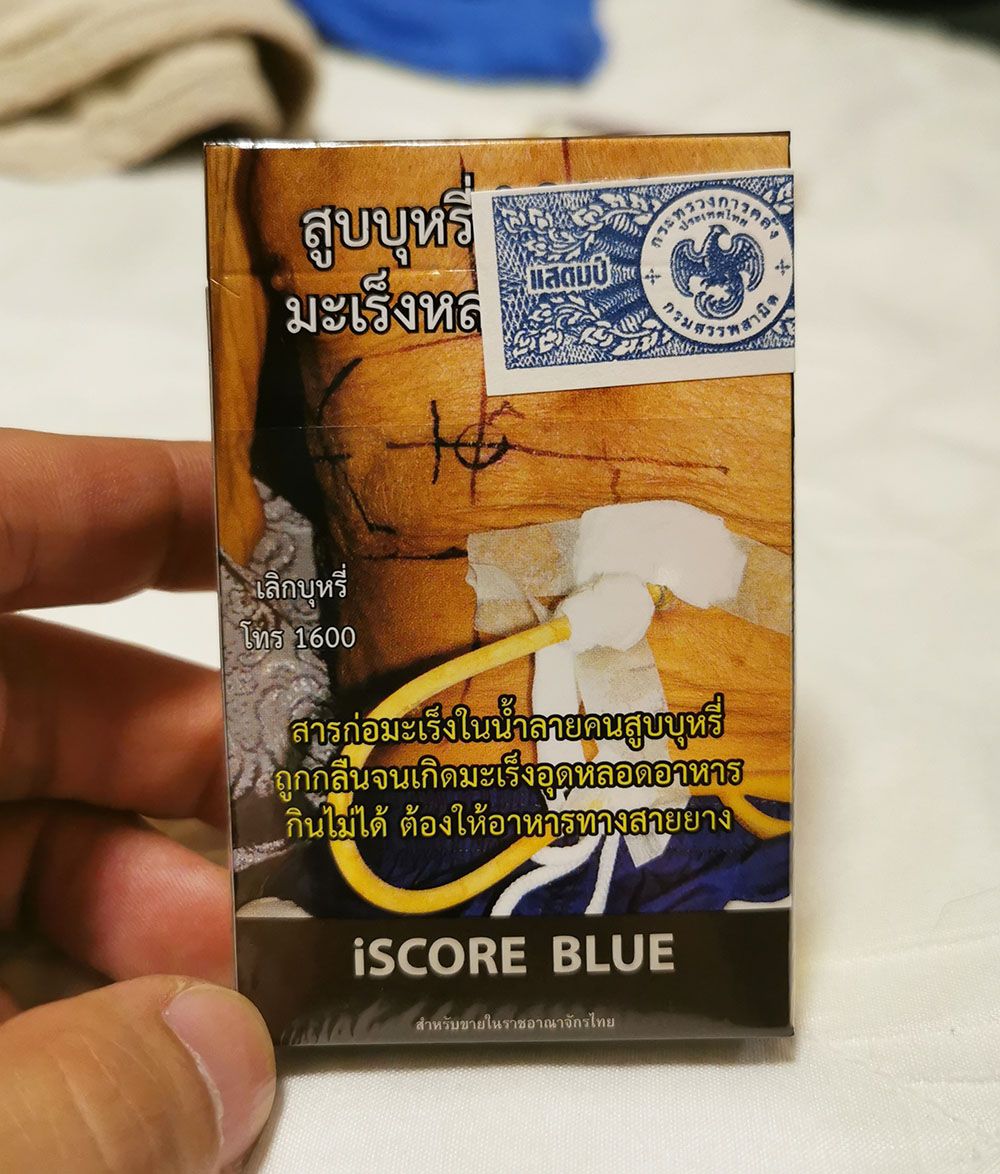 It is blue, but it tastes menthol.
Recommended cigarettes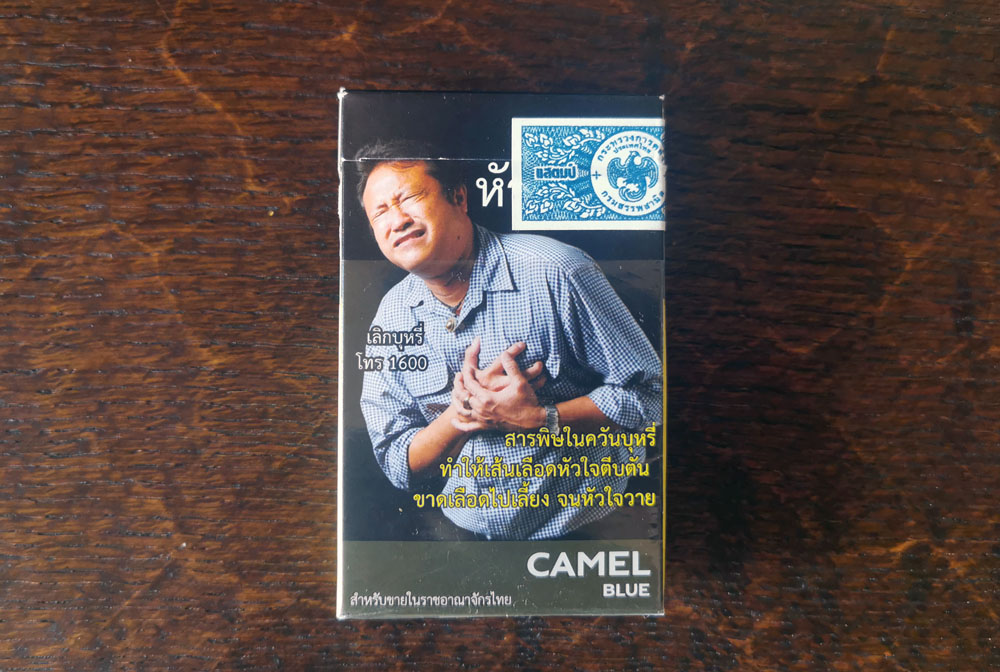 For a good balance of price and taste, I recommend Camel Blue, which is popular among thrifty smokers because it costs 60 baht and tastes decent.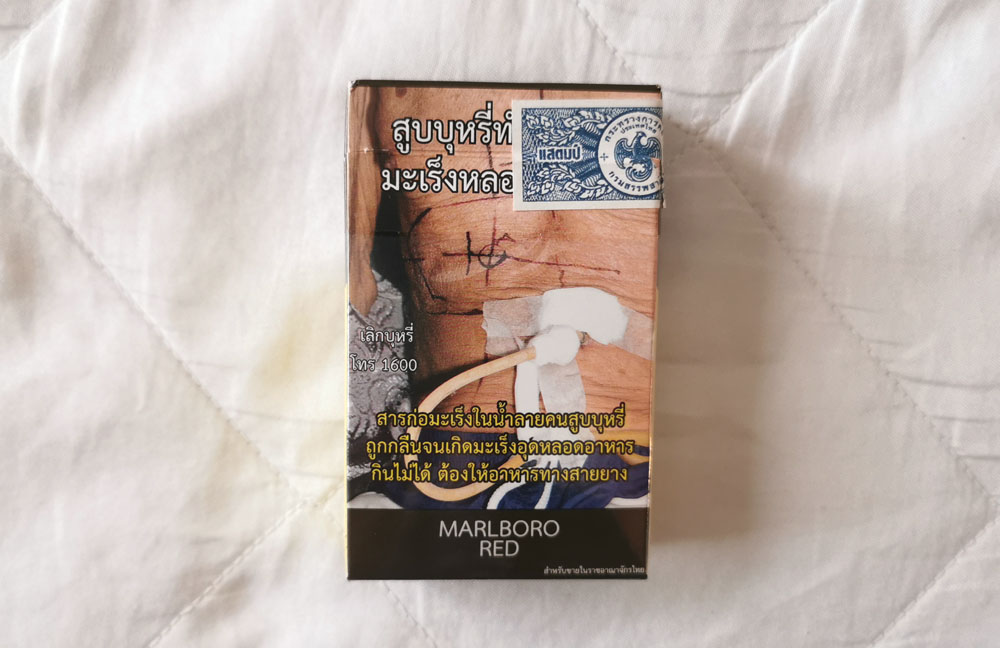 Next I would recommend Marlboro Red. It is a bit of a strong cigarrete, but while the other colors of Marlboros are not as good, Red is the most decent tasting. If Red is too harsh for you, I recommend Red's Middle Slim.
For menthol lovers, I recommend the iSCORE slim type 5.0.For 60 baht, it tastes decent.
How to order cigarettes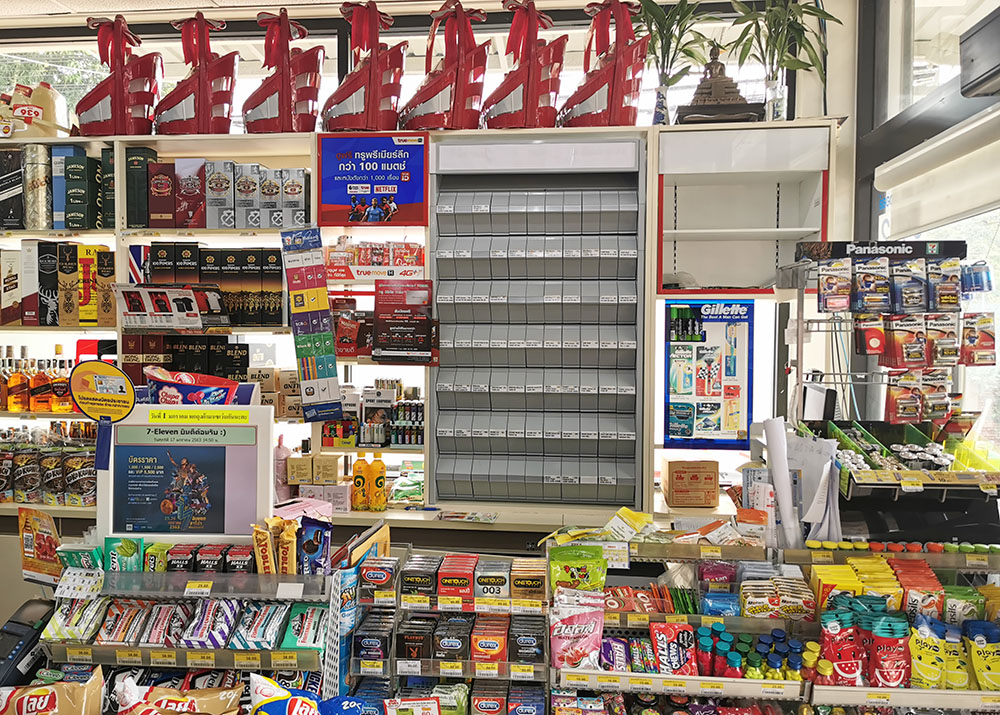 Cigarettes can be found behind the cash register at convenience stores, etc. Tell the clerk the brand, color, and 7.1 if you want a middle-slim type.
If you are in a convenience store around Sukhumvit, many of the clerks understand a little English, so you can just order "Marlboro Red". But if they have hard and soft cases, you may be asked which one you are.
The problem is that English is not spoken a little outside the center of town.
For clerks who do not understand English, you can tell them by specifying the brand + color + box or soft (for Marlboro), size (only for brands with slim).
Example: Camel Far (Blue)
Example: Marlboro Tone Je Jum nun (gold middle slim)
Example: Marlboro Dane Bo (red box)
▼ Thai words such as color, size, and box/soft are listed below.
Types and Prices of Cigarettes
The price of cigarettes in Thailand varies greatly depending on the brand. Price does not always equal quality, and foreign brands such as Marlboro and Mevius are particularly expensive.
There are many different types of each brand and the amount of nicotine is not listed. Also, green is menthol.
---
Marlboro
Arctic X, Purple X 165 Baht
Red, gold, silver, black, green
*Red available in box and soft
Middle slim type (7.1)
Red, Gold, Silver, Black, Green 115 Baht
---
Mebius
Original Blue, Sky Blue, Green 150 Baht
Purple (crush type menthol) 165 Baht
*Mebius should be pronounced "Mewiers".
---
L&M
Red, Blue, Green
* Red and Green are available in box and soft
■Middle slim type
Red, Blue, Green, Storm 60 Baht
---
Camel
Blue, yellow, green 60 baht, purple 138 baht
WINSTON
Red, Blue, Green 90 Baht
Red, blue, green Middle slim type 60 Baht
iSCORE
2C 120 baht , amazon 110 baht, X 100 baht
5.0 (slim), blue, red, green 60 baht
SMS
Red, Green 60 Baht
WONDER S
Red, Green 60 Baht
LINE
Red, Green 60 Baht
Green Middle Slim Type 60 Baht
GOLD CITY
90 (normal type) 95 baht
KRONG THIP
90 (normal type) 95 baht
7.1 (middle slim type) 90 baht
FALLING RAIN
90 (normal type) 95 baht
BREAK
Red, Green 60 Baht
PLAY OFF
Red, Green 60 Baht
Thai Glossary for ordering cigarettes
Colors
Red = Dane, Blue = Fur, Green = Kyeau, Black = Dam, Yellow = Ruan, Purple = Muan
Size, box, soft
Slim = lek, box = bok, soft = ohn.
*Leck means small, but both middle slim and slim can be understood by this.
タイでゆる畜 - 海外移住フリーランス生活
インドのタバコはパッケージサイズが3種類あり、同じ銘柄でもサイズによって味と値段が違います。僕のおすすめするタバコ銘柄は…
関連記事
タイの日々と切ってもきれない関係の「お酒」について、人気のウイスキー、焼酎などの種類、銘柄や価格をまとめてみました。輸入物も含めるとタイはかなり多くの種類のお酒が売られていて、特にビールはクラフトビールなど、製法にこだわった商品も多[…]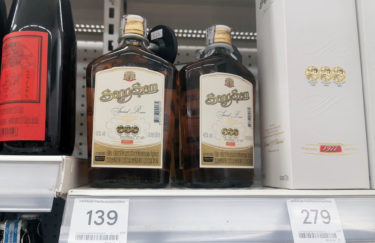 関連記事
進化し続けるタイのビール市場。タイもひと昔前と比べると、信じられないくらいビールの種類が豊富になりました。特にクラフトビールの台頭が著しく、「ローカルのタイ人買わないでしょ!」というお値段のビールもコンビニに並ぶようになりました[…]